Superior Odyssey – Leg 1 (Or the Heart of a Sailing Voyage)
By James R. Vander Schaaf ("Captain Jim")
It started in Portland, Maine and the first leg ended some 30 miles up the Hudson River from New York.  It was a voyage of discovery, learning, sharing, highs, lows and living in community aboard a 43 ft Murray G. Peterson Gaff Rigged Schooner, appropriately named Coaster II. 
According to Merriam Webster's Online Dictionary, an Odyssey is:  1: a long wandering or voyage usually marked by many changes of fortune; 2: an intellectual or spiritual wandering or quest.  This Superior Odyssey (pun intended) was indeed both of these.
The voyage started in Maine, but it happened because of a dream of the 14 year young boy named Thanos Economides.  His father, Nick Economides had purchased the vessel after a 6-month search on the Internet, but Nick was driven to search diligently because of Thanos's interest in living this dream.  Thanos also liked working on a vessel whose character has not changed much from the early 17th century. Thanos's grandfather had written a compelling request to the superintendent of the school where Thanos was enrolled to permit him to participate in this voyage with an approved absence from school.  The following is an extract from that letter:
…. Thanos's father, my son Niko Economides, has been a local Marquette, Michigan resident for the past twenty years. He has made his living building and restoring wooden boats for the Huron Mountain Club, building log cabins, and producing large custom carvings of animals (mostly bears), furniture, and commercial signs. Over the recent years, Niko has been researching the possibility of introducing a historic sailing vessel to the Marquette area. He has recently found on the Internet that the schooner "Coaster II", the smallest of the nation's registered "Tall Ships", is for sale. The ship is also registered with the US Government as a Historical Landmark and has been classified and participated in several "Tall Ship" parades and races, achieving second place in one of the races. It is also licensed as a "Museum Ship" with the US Coast Guard.
<![if !vml]>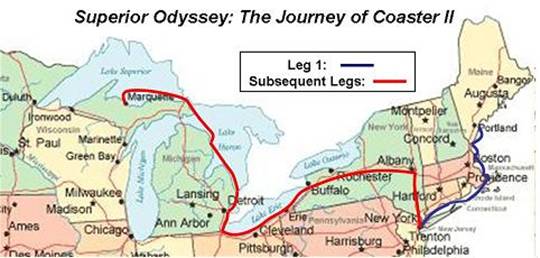 <![endif]>Niko, his kids and my wife and I became emphatically excited about the idea of Niko purchasing the Coaster and sailing it from the harbor of Portland, Maine, southerly along the New England coast, navigating the Long Island Sound to the mouth of the Hudson River in Manhattan, passing the Statue of Liberty, northerly up the historical Hudson River to the Erie Canal, then into and across Lake Erie to Lake Huron, northerly to the locks of Sault Ste. Marie, and across Lake Superior to its final home in the harbor of the city of Marquette, MI. The starting date of the journey was established in accordance with the ship's availability and all participants' strict schedules and will consume most of the summer. Nick and the kids will then charter the Coaster for "Day Sailing", excursions and guided tours along the southern shore of Lake Superior. Niko and the family are also excited about the historical significance of a "Tall Ship" being permanently moored and exhibited in the harbor of Marquette, MI. ….
Another crewman on the Coaster journey will be Brian Harvey. After this trip, Brian will be joining the crew on the "Bounty" in Chesapeake Bay to prepare for an "around the world" sail of "good will". Brian was one of the mates in the movie "Pirates of the Caribbean". Niko and Thanos are anticipating many exciting after dinner sailing tales and pirate lore.
Also, I have a good friend from our days in the "Folk Lore Society" at Michigan State University during the early 70's. Joe Janeti is now Executive Vice President of Monarch Pictures Ltd in Los Angeles and produces film features and documentaries. He is the recipient of two PhDs and is currently Professor of Cinematography at UCLA and Professor of Screenwriting at USC Film School.. Joe played banjo with Pete Seeger during his fund raising sailing tours on the sloop "Clearwater" for the cleanup of the Hudson River in 1969. We have contacted Joe in LA and told him about Niko's plans. Joe was very enthused and indicated that he would like to be involved.. Niko invited him to come aboard for part of the trip and Joe said that he would be free beginning in May and would like to join the trip from then on. In fact, he has contacted his filmmaker, Dan Seeger, and discussed the idea of making a feature film of the trip. They both agreed it would be an exciting idea to film a "Tall Ship" during it's voyage on different waters of the USA; i.e. Ocean, rivers, canals, locks, and Great Lakes., They decided it's a "GO". According to Joe Janeti, included on the trip up the Hudson River will be visits and music sessions with celebrities such as Pete Seeger.
Joe remembers Niko when he was the same age as Thanos during our days of the Folk Lore Society at MSU. He always participated in our celebration of Greek Easter. He indicated that he would be happy to help Thanos stay "on coarse" with his academic responsibilities during the trip. If there are any questions or concerns from any of his academic leaders, Joe welcomes a call. ....
In light of all of the above plans, introductions and experiences, this rare opportunity will be a priceless memory and education for Thanos. He will be charged with "ship's cook" and other responsible chores and tasks that will directly affect the proper maintenance of the ship and life-safety of the crew. In essence, he will depart as a boy, and return as a Man. We pray that you as Principal and the other school leaders give Thanos your blessings and do whatever possible to help him achieve credit for this semester. He is so determined and motivated that he is willing to do whatever is needed or required to accomplish this goal. He will have his laptop aboard and Niko has Alltel cell phone service to the Internet which will connect along the entire trip. He could email his teachers and classmates reports and pictures indicating the progress of the voyage. Any assignments, work orders, or tests could be emailed to him to complete and he could email back. Additionally, he is willing to take summer classes, extra credit, or whatever in order to make up.
Niko, Thanos and I thank you for your sincere consideration in realizing this DREAM,
Dimitrios Economides
A schooner is a type of sailing vessel characterized by the use of fore-and-aft sails on two or more masts. Schooners were first used by the Dutch in the 16th or 17th century, and further developed in North America from the time of the American Revolution.  Many designers in America utilized this design to create vessels used to transport passengers, granite, lumber, and other bulk cargos.  Among these designers in the early 20th century was a master designer Murry G. Peterson, who designed many such vessels. Coaster II, the <![if !vml]>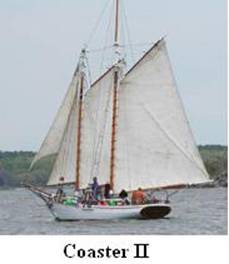 <![endif]>original name, is a two-masted gaff-rigged topsail schooner designed and originally owned by Murray Peterson.
She was built in 1933 at the Goudy & Stephens boatyard at East Boothbay, Maine. Coaster II was the second in a series of three schooners Peterson designed to replicate the craftsmanship and appearance of late 19th century coasting schooners. She was built as a yacht and is registered as a National Historic vessel.
Coaster II has been through a significant restoration in the last 10 years and retains outstanding integrity to her original design and construction. She has sailed around Cape Horn and is believed to have won the Trans-Pac race in the late '40's or '50's. She was the only American flag vessel to place in her class in the 2002 Pacific Tall Ship Challenge. In 2003, she raced in the American Schooner Cup race in San Diego.
But we are getting ahead of the story here.  This is a story about the people involved, their relationships, and passions and how Thanos's dream evolved. 
<![if !vml]>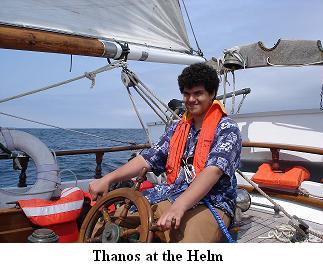 <![endif]>Ok, so just who is Thanos?  Well in many ways he is a young 14 year old boy-man whose dreams and passions live in all of us.  He is bright, talented, thoughtful, and sensitive and wants to be gently shown what life is all about while he discovers it on his own! 
I call him a boy-man because on this voyage he took several steps toward manhood.  When the voyage began, Thanos preferred the companionship of his computer in his bunk in the forepeak.  At the end of leg 1 of this voyage, Thanos had learned to steer the vessel, while maintaining watch underway, with an excellent capability to keep on course (a skill quite demanding in various wind and current conditions).  Now, Thanos hung out much more in the cockpit, because now, he was not simply a member of the crew, but a full participant in the community on-board.  He was more interested in becoming involved, finding out the whys and wherefores of sailing, anchoring, docking, splicing, tying off, raising sails, raising anchor, and all the myriad of tasks found aboard a sailing vessel.  He was becoming a man. 
While this growth will continue thru subsequent legs, he has started just what his father and grandparents had hoped for him.  Once such a path is chosen, it cannot be easily changed, due to several factors that we will explore in this article.
<![if !vml]>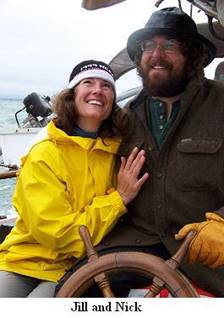 <![endif]>
But I haven't told you yet who else was involved in the voyage!  Coaster II's crew for this 1st leg consisted of Thanos's father Nick Economides, Jill Rogers, and myself (Captain Jim).  Jill and Nick are a most delightful, in love, soul-mate couple.  They are both recovering from difficult separations and divorces from their 1st partners.  However, they are not in any way victims of these difficult times; rather they have chosen to grow, develop and explore their lives with confidence and wisdom while still walking in a world where the pain of remembering is sometimes too close.  "It takes time" to accomplish this recovery is the familiar mantra.  While very true, that time can be reduced by the community of sharing one finds oneself in on a voyage of discovery like this one. 
<![if !vml]>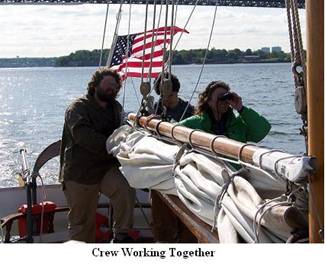 <![endif]>Nowhere that I know of can caring people come together so quickly and form bonds that last a lifetime.  Why?  Well because on a sailing vessel, the goal and vision is clear, and unambiguous.  Everyone knows that they must work together to journey to sea and get safely to the next port. It's like a life with a mission, very unlike Alice in Wonderland:  "If you don't know where you're going, any road will do!"  Also, the days come to you not by your choosing, but by the fickle fate of changing weather.  By the grace of God, your training and skill, and probably most importantly, your ability to work together, you get to venture out, enjoy the journey and return to dry land.  You know in a distant past, when you had gills, you enjoyed the sea.  You still do perhaps because of that past, but also because it's a place to bond with people, and, guess what folks, that's what it's all about!  When you go to sea, you will come together in ways you cannot imagine – this is why I go there!
Anna (my loving wife) and I once lived in an apartment building for 2 years, and we met 5 people.  We have been in anchorages and in two days and we have gotten to know half of the people on the 30 boats anchored there.  The environment is more conducive to conviviality, openness, and love.  It's not just because we know that our survival may depend on others, it's also because we have chosen to be here and being more aware and open, we realize we want to connect to other people on a deeper level.  This "Zen of Sailing" calls many, but not all hear its clarion call.  It is a place that I love.
In my special educational program for women, I typically find that they have fears based upon their reactions to what I call the 'screaming headlines'.  They have either seen the Perfect Storm, or some other movie which has aroused their fears of the ocean.  Of course their fears are real for them, but they are typically not based upon actual experience with the sea.  The popular television program Storm Stories should be banned, or if not, then each episode should be properly introduced: 
"Folks, you must realize that 98% of the time, the sea is a gentle place wherein your mind will drift when sailing with a gentle breeze which you feel on your face and will rock you to sleep while at anchor at night. This program intentionally depicts only that 2% of the time when the wind and sea can be ferocious, physically threatening and emotionally scary. We present the sea in this unbalanced manner for commercial purposes, just like headlines in a newspaper!"
With the availability of accurate weather forecasts, there is no reason to harbor these fears.  It is statistically safer on the ocean than on Interstate 95!  However, fear is not based upon reason, and hence it must be dealt with by explaining reality, and, then gently asking people if they wish to confront their fears and grow as individuals.
Back to the crew!
Nick Economides, who owns Bear Pond Woodscraft, Custom Woodwork, Sculptures and Furniture in Marquette, Michigan purchased Coaster II in April 2007, and intends to put her in the day charter business on Lake Superior.  Nick is an iconoclast, entrepreneur, and man who feels compelled to follow his vision.  He is a gentle bear of a man – someone who rarely gets angry, except at those who choose not to be helpful when they could easily do so.
Nick followed his compelling vision early in life – he left home at 18, not to run away from something, but rather to run toward something.  He was captivated by a vision of mountains and untamed wilderness, and, once he moved in this direction, he just kept on going.  After exploring the wilderness and learning survival skills for some time, he established himself as a skilled artisan working with wood to create sculptures, furniture and cabins around Marquette, Michigan.
Jill Rogers currently works as a teacher's aide for special needs children in Marquette, and has known Nick for 15 years.  Jill has the patience and understanding to skillfully fulfill her role as a teacher of those less fortunate.  She is a beautiful, happy, intelligent woman who has clearly found a man she loves and who loves her.  Jill has been involved in the sport of alpine ski racing most of her life.   She also works seasonally doing administrative work for the Central division of the United States Ski Association and has been both competitor and coach.  In the summer she can be found sharing the woods and lakes with children of the Huron Mountain Club where she works as an outdoor activities guide. 
My role was to be that of delivery Captain and instructor.  I serve as US Coast Guard licensed delivery captain and educator at Down East Yacht Delivery (http://www.downeastyachtdelivery.com/ ) out of Portland, Maine. Having had 42 years of boating experience, and a love for teaching, Nick had asked me to participate.  My nephew, Ben Snapp, had called me out of the blue (one of many coincidences that occurred with this voyage), and asked if I would be interested in participating.  Ben and Nick were friends in Marquette, Michigan and had shared various work projects together.  In my email to Nick, I offered:
<![if !vml]>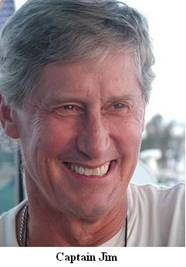 <![endif]>"Here's my sense of where you would want help from someone with my experience:
1) Provide delivery captain services (with you and at least one other sailor aboard) from Portland, Maine into the Hudson River in Manhattan, New York. I estimate a minimum of 6 days (allow 12 with unknown weather). I've transited this route several times.
2) Provide charts, GPS, and a Marine radio (communication and weather reports) for use aboard while enroute.
3) Provide training for you and your crew in vessel preparation, voyage planning, offshore sailing, charting and plotting, weather training, docking and anchoring techniques and other skills that will make you a better sailor. This would start with a) a detailed list of items to have aboard and b) departure checklist. Training would also include listing of many, many websites that provide the best sailing resource information. "
That was the initial agreement.  Little did I know this voyage would be an overwhelmingly poignant, emotional and delightful experience in which I would be proud to be invited to become a member of this extraordinary Greek family!
Talk about emotion! I would like to now introduce Sue Economides (Nick's Mother) otherwise known as Yiayia,. To meet her is to love her.  She is one of the most open, loving, generous and spiritual persons I have met.  To understand her, it's best to read her passionate email sent just after our arrival in New York:
<![if !vml]>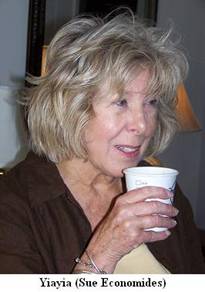 <![endif]>
"My heart is bursting with pride and my tears of joy have finally dried.........my memories of calling Jill to get location reports and happiness updates, Thanos to ask why he hasn't been emailing (Nick's phone is their internet connector and has broken down) and of course, Nick to see how the ship was taking the voyage and how he was feeling about sailing it! They were also guided by Captain Jim, an accomplished sailor with a heart as wonderful as his crew (my family).  My sister, Peg promised Nick in February that if everything was a "go" with the ship, she would drive Anthea, Cyrus and me to New York Harbor to meet Nick and the Coaster (it was undecided whether Jill or Thanos would be able to go). Little did anyone know that that promise entailed soooooo much and that any of this happened was a small miracle..............
On Friday, May 18,we drove 12 hours to get to New Jersey to spend the night with Regi and Nick, Peg's step daughter and husband (Nick is a former Greek sailor ) and then on Saturday we took the commuter train and a subway to ground zero in New York City.....it was over whelming! There we were met by my brother Gaylord and Joyce and we walked to their apartment. (graciously offered and owned by Joyce's Uncle ) This apartment was only a block and a half from the South Street Seaport.......wow, Nick could dock the ship and we could all get on and sail! So we dreamed !!!!!.......Peg laughed.................
Jill and I were in constant contact (her cell phone worked) They went through very bad weather, high winds moving them away from us......cold , high waves, rain and storms.....it became questionable whether they would even make it to the city in time for the kids to see Nick, Thanos and Jill and the ship.....Their story is THE ONE you all want to hear.........( Jill and Anthea and Cyrus were scheduled to fly back to Marquette on Wednesday 5/23 )
Monday, Gaylord scurried around on the internet and the phone, trying to find dockage for the Coaster ......the Harbor that we thought would be perfect was heavily guarded and impossible. This was New York City Harbor........!!!!!!!!! Huge ships, ferry boats, busy, busy............  Monday afternoon Jill called and said they would make it !!!!!!! Our hearts leaped.......Captain Jim said they would get up very early and try to get to the Harbor by noon.........tears of expectation!!!!!!!.........
Tuesday 6:30...Thanos called me "Yiayia, we'll be there in an hour!" Peg, Gaylord and I grabbed our coffee and ran the short distance to the seaport docks........there, with the new sun of the day, crisp, cool morning, we were greeted with a calm, quiet harbor stretching below .........we hung out over the railings searching the waters to the left ( East) with the Brooklyn Bridge raising above......After many calls and Peg starting a wager on what time we would actually see them for the first time ..the phone rang.........it was Thanos.........we are going under the bridge!!!!!!!!! (by this time we had awakened Joyce, Anthea and Cyrus and they were with us) We couldn't see them! Jill consulted the charts......there are so many bridges and she kept track and kept me posted and then............a little spec of a ship (without sails) slowly coming under the bridge, Cyrus was jumping all around, I was trembling and called Jim. (my husband ).........."they're here, they made it, Jim, I can't believe it."..........they took forever and then the first one I saw was Thanos...........he was out on the 12 foot bow sprit waving....my grandson !!!!!! and then I saw Jill standing at the side, her hair blowing and her arms waving with love and happiness and then...... our beautiful son, our "salty" son, at the helm, navigating the ship through the harbor..............I was sobbing into the phone .....".They're here." ( I called Gus and Connie crying "they're here, they're here........"...) Then I realized........the ship ! It looked magnificent...........the 2 tall masts carrying the Coaster banner and the little Greek flag ("I sailed the Greek flag for Popou," Niko said) The schooner is 43' long with an additional 12' bow sprit securing a mass of complex rigging........my immediate impression is one of a historical sailing vessel........from another era.
This emotional memory will NEVER leave my heart .............what a journey they are taking and all who are apart of it will be forever joined..............."
wow, I will email later with the rest of our day.............Thank you everyone for your prayers and support .............with love, Yiayia, sue, mom ......me
Wasn't that just touching? Is there a dry eye anywhere? But as usual, we are getting a little ahead of the story…………..
Nick and Thanos arrived in Portland, Maine two weeks before our planned departure in May 12, 2007.  They came via Nick's truck along with Ben Snapp who took the opportunity to visit his Mother Lorraine who lives in Brunswick, Maine.  Prior to a voyage of two+ months, there are always many things to do for a newly purchased vessel, let alone a schooner: check the sails, learn sail handling, take her out to see how she sails and handles, check the engine, the electronics, the thru-hulls, get spares, arrange for a dinghy, check the safety items, etc., etc., etc.  A seemingly endless set of tasks must be done and usually to a tight schedule.
While completing these tasks, you wait for a weather window.  Fortunately the weather turned good just after lady Jill arrived in town on Thursday (good omen).  Friday was provision day, and Saturday we were off on the tide.  Prior to Nick and Thanos's arrival, Coaster II had withstood one of the worst Nor'easters in recent memory.  Five of the docks within the Portland Harbor facilities of Dimillo's Restaurant were demolished and several boats were damaged.  Coaster II receive only minor bruises while tied up there, in part due to her construction and also the loving care her prior owner gave her during the storm.
<![if !vml]>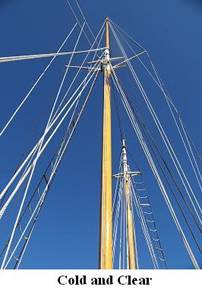 <![endif]>Heading toward New York from Portland, Maine in May can be tricky.  The prevailing winds are from the SW (precisely the direction we wished to go).  Our luck was good on Saturday, as the winds were from the NW, associated with the moving low, and while very cold and not raining, we could make good progress "Up South West" (as opposed to Down East).  The first day found the crew full of anticipation in expectation of many adventures.  The first day was sunny and cold, and both Jill and Nick found they questioned whether this was expected for the remainder of the voyage.  We managed to motor with a 1st choice anchorage being Isles of Shoals (close to Portsmouth, NH).  With a prediction of a quiet night (with always the potential of winds), and bad holding, we opted for an anchorage in Pepperell Cove in Portsmouth Harbor. 
The learning had started.  Handling of sails and lines were introduced.  A review was made of how to capture and tie up to a mooring ball, weather patterns, VHF radio use, use of tethers, jack lines, harnesses and life vests, and other safety equipment  and procedures aboard.
Learning aboard is accomplished in many ways, but always involves an explanation of "what" and "why", followed by "how", "when", and "where".  Jill and Nick were rapid learners – their wilderness training and Nick's small boat experience was evident.  Learning also involves reading about a skill, discussing roles and responsibilities, seeing the skill performed, reinforcing what was learned and what still needs to be learned, and providing additional written material and discussion to answer questions.  I was warming up to my task – my crew was committed to learning and doing!
I had prepared an educational manual of 73 pages covering anchoring, charts and voyage planning, docking and maneuvering in narrow channels, knots, mooring techniques, heavy weather tips, safety and emergencies, rules of the road, sailing techniques, including heaving to, VHF usage, and tides and currents in the Cape Cod Canal and Hell's Gate.
The written materials were used to reinforce learning and provide graphical illustrations of difficult concepts.  While several books could have been written to cover these topics, I chose to write about my own experience of sailing for 42 years supplemented by available literature from many sources.
An example to illustrate this material is shown below:
---------------------------------------- Educational Material Extract ------------------------------------
Warping Ship (How to Undock When the Wind is pushing Your Vessel Against the Dock)
I learned this wonderful technique from a retired US Coast Guard officer while at a fuel dock in Cape Fear, North Carolina.  We had been at sea for 3 days coming north from Florida, and came in to refuel and re-provision.
The dock was perpendicular to the wind (blowing 15-25 knots) and the channel.  This wind was holding our vessel Justice on the dock.   I didn't see how I could move forward or backward without being blown back on the dock.
The technique is marvelously simple once you understand it.  Referring the diagram below, first, start the engine, and remove and stow all dock lines (that are turquoise in color).  Not the fenders, just the dock lines.  Add a fender forward by the bow as shown.  Now, attach the warp line to the Sampson Post forward on the starboard bow (or bow cleat), and have a dock hand take one turn around the piling as shown with the Red Warp Line below.  Then turn the rudder full to starboard, engage the engine in forward, and slowly rev the engine.  The vessel will attempt to go forward, but will be constrained by the warp line.  So the bow will go to starboard, while the stern is pushed away from the dock.  You can now see the need for the fender forward.  Keep the engine in forward until the bow is tight up against the dock and the stern is well away from the dock.  You will now have the vessel at about a 30 degree angle to the dock. 
<![if !vml]>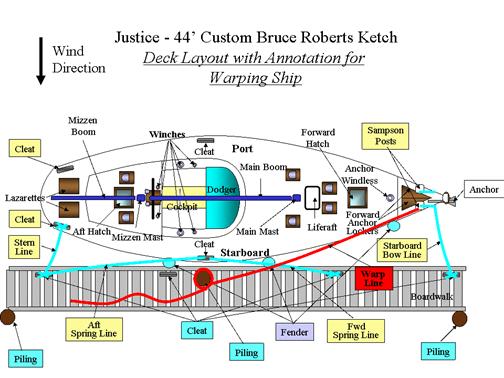 <![endif]>
Now, have the dock hand throw the warp line aboard, quickly shift into reverse, turn the rudder to amidships position, and quickly back up away from the dock.  Walla!  You have freed yourself!
Of course you can easily use this technique to warp the bow off the dock in a reverse manner (which Coaster II's crew did when I left the vessel in a very tight docking situation 10 miles up the Hudson River in New York.).  Coaster II is 43 feet with a 12 foot bowsprit and hence must be handled with care.  We had wind and slight current on her beam, a narrow slip, a tight turn, and a series of pilings and other vessels to avoid.  We removed all dock lines except a single, long line tied at the stern and led to a cleat on the dock amidships of the vessel.  Coaster II was slowly backed and the warp line was tightened and eased in stages so as to force a gradual turn to starboard while slowly moving back out of the slip.  When the bowsprit was free of the last piling on the port side, and the wind was direct on the bow (Coaster II had now turned 90º), the warp line was cast free and quickly retrieved by the able crew.
-------------------------------------- End Educational Material Extract ------------------------------------
We enjoyed our brief sojourn in Portsmouth, NH harbor.  The crew had a chance to warm up in our cozy cabin (Coaster II was not equipped with a dodger which would be almost mandatory if the vessel was to cruise extensively in these waters).  However, we must be reminded that our forefather fisherman did not have such luxuries – they were capable of working several days offshore in conditions much worse than we encountered.
We had our first warm meal at anchor.  What a great treat!  Our meal was not elaborate or gourmet, but warm, filling, and nourishing.  The crew crashed early for the night and slept like a babies!
We would have loved to go ashore in Portsmouth, but our schedule demanded continuing progress.  Schedules can be devilish (they can drive you to make weather related mistakes if you don't watch it), but we had scheduled a flight/reunion 11 days later with our Greek family in New York, NY.
The following is an extract from the Portsmouth, NH website: (http://www.portsmouthnh.com/visitors/)
"Portsmouth, N.H., a city of roughly 21,000 people, sits near the mouth of the Piscataqua River, a short, wide river that divides New Hampshire and Maine. The city also is at the hub of a metropolitan region that includes several small cities and many towns.
<![if !vml]>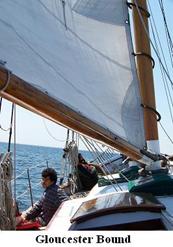 <![endif]>Settled in 1623, Portsmouth lays claim to being the nation's third-oldest city. It served as a focal point on the Eastern seaboard until the late 1800s when rail travel did in the shipping industry. John Paul Jones' ship The Ranger was built in Portsmouth, and the Portsmouth Naval Shipyard (which lies across the river in Maine) was established in 1800 as the country's first Naval shipyard."
The next day we were bound for Cape Ann and the harbor of Gloucester, Massachusetts.  We had considered a route thru the Annisquam River and the Blynman canal, but shoaling and draft considerations drove us to head East of Cape Ann.  We had a gloriously warm day, light winds from the East, and we mostly sailed.  Coaster II showed us her stuff, moving us at 5+ knots in 11-12 knot breezes.  The crew was happy to finally be sailing!
According to the Cape Ann Vacations website (http://capeannvacations.com/ ), Gloucester is America's oldest seaport and was settled in 1623.  Gloucester has a great harbor (protect from all but South East) and is still one of the busiest fishing ports on the Eastern seaboard.  Whale watching is a popular sport and attracts many people to this area.
<![if !vml]>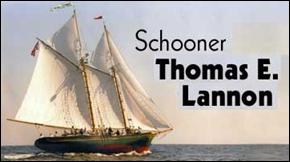 <![endif]>When we arrived in port, we had the pleasant experience of seeing another schooner.  The Thomas E. Lannon, built in 1996 was taking several passengers out for a day sail.  She is 64.5 feet on deck and 90 feet with her bowsprit, with an 18 foot beam.  We were very interested in this vessel since she was put in the day charter business, and, we were putting Coaster II in this business. 
The vessel Thomas E. Lannon has a fascinating history.  Tom Ellis, the owner of the Schooner Thomas E. Lannon, had heard stories of his grandfather Thomas Lannon coming from Newfoundland as a young man, marrying, and settling in Gloucester. There he fished on the big schooners until he took sick in 1943, at the age of 65.  Much more information can be found on the Thomas E. Lannon's website. (http://www.schooner.org/ )
<![if !vml]>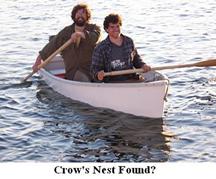 <![endif]>Thanos and Nick were hot to find the Crow's Nest bar, the landside hangout of the famous crew from the ill-fated sword fishing vessel Andrea Gail.  This vessel and her crew were lost during the October 1991 storm of the century, and was documented by Sebastian Junger in The Perfect Storm.  I'll let you reach your own conclusions about whether or not they found the bar – check out the photo of them returning.
The weather forecast for the next day promised winds from the West at 10-15 knots.  We wanted to sail and reach the famous port of Plymouth, MA, so given the distance, we left early. 
Can you imagine traveling thousands of miles by ship without the convenience of good food, weather reports, GPS navigation or an engine?  The Mayflower II is a reproduction of the type of ship that brought the colonist to Plymouth in 1620.  This interesting vessel can be found in Plymouth Harbor and you can board it and get a feel for what these early settlers experienced.
Underway to Plymouth, we passed (at a considerable distance) the grand harbor of Boston, <![if !vml]>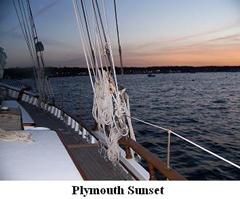 <![endif]>Massachusetts.  Since we were living a historical means of transportation, we decided to honor our forebears with a 'Boston Tea Party' of our own (with a twist).  After consuming a nice hot cup of tea, we ceremonially dump our tea bags in the Atlantic, with prayers of thanks to those stalwart souls for initiating our freedom!
We sailed easily and slowly and arrived mid-afternoon in the wide open space of Duxbury Bay, just North of Plymouth.  Since the bottom was sandy (great holding), this was a great time for the crew to learn anchoring.  We discussed the process, readied the anchor, and dropped it exactly where we wanted in about 15 feet of water.  We backed down twice and the anchor held fast.
The conditions were perfect for an afternoon exploring ashore, so Jill and Nick dropped the dinghy and paddled ashore.  We were all lulled into a sense of peacefulness and failed to adequately prepare the dinghy for a safe departure and return.  I failed to advise them of the difficulties of returning against wind and current.  This they found out later.  The winds were predicted to veer to the South West and strengthen to 25-30 knots.  Luckily, they returned just before the winds picked up, but they had to paddle against 2.5 knots current (they had run out of fuel for the engine).  We discussed this afterwards (learning by experience) and came up with a list of essential items to have aboard for long dinghy rides (fuel, anchor and anchor rode, handheld VHF or cell phone, first aid kit, and oars).
<![if !vml]>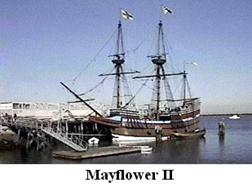 <![endif]>
We left our "lunch hook" anchorage when the wind picked up late afternoon and motored into Plymouth Harbor to grab a mooring ball for the night.  After some confusion and a shallower harbor than stated on our charts, we were assisted by the Harbor Master in obtaining a mooring ball in sufficient water.  After another great nourishing meal, we slept soundly in comfortable sleeping bags during a very cold night.
Early morning the next day found us motoring to the fuel dock for fuel, water and a few spare parts. We visually located both Plymouth Rock and the Mayflower II in the Harbor, but elected not to visit these sites.
The following brief historical notes were extracted from Pilgrims.net website: (http://pilgrims.net/plymouth/history/mayflower.html )
The English ship the Mayflower carried the Separatist Puritans, later known as pilgrims, to Plymouth, Mass., in 1620, from Plymouth, England, on September 16th. The 180-ton vessel was about 12 years old and had been in the wine trade. It was chartered by John Carver, a leader of the Separatist congregation at Leiden, Holland, who had gone to London to make arrangements for the voyage to America. The Mayflower carried about 120 passengers.
The voyage took 65 days, during which two persons died and two births occurred. The ship came in sight of Cape Cod on November 19 and sailed south. The colonists had been granted territory in Virginia but probably headed for a planned destination near the mouth of the Hudson River. The Mayflower turned back, however, and dropped anchor at Provincetown on November 21.
After weeks of scouting for a suitable settlement area, the Mayflower's passengers finally landed at Plymouth on Dec. 26, 1620. The ship remained at Plymouth during the first terrible winter of 1620-21, when half of the colonists died.
Historical research gives the ship's dimensions as 90 ft (27.4 m) long, with a 64-ft (19.5-m) keel, 26-ft (7.9-m) beam, and a hold 11 ft (3.4 m) deep. In 1957 a close replica of the Mayflower, the Mayflower II, was built in 1957 by England as a gift to America and sailed from Plymouth, England, to Plymouth, Mass., where it is now on view.
I was quite keen to calculate the average speed the Mayflower made during its original historic voyage.  Assuming a route thru the Azores (quite likely given English knowledge of the Atlantic at the time), a total distance of approximately 4400 nautical miles was covered in 65 days.  Simple math reveals that they made 68 nautical miles per day or 2.8 knots.  Talk about life in the slow lane!  When sailing with light winds, Coaster II averaged 5 knots, or about double the speed of the Mayflower!  Offshore sailors today typically turn on the Iron Jenny (diesel engine) when their vessel speed drops below 5 knots.
Now, back to the voyage….
<![if !vml]>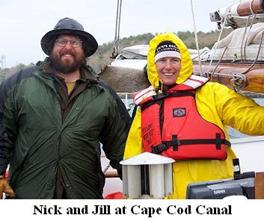 <![endif]>Weather predicted for our transit to the Cape Cod Canal was initially 15-20 knots southwest and strengthening to 35-40 knots.  We decided to run for it given the short distance between Plymouth and the Cape Cod Canal entrance.  It turned out as expected, a very cold and wet day, with spray blowing straight back from the bow.  We ran close to shore to minimize the effect of head seas, but they still building close to shore – we had 5-6 foot waves within 2 miles of the canal entrance!
An interesting phenomenon occurred when transiting the canal.  Our time window was calculated to transit the canal with favorable currents (they reach a peak of 4.5 knots and hence we wanted to run with the current).  However, when we arrived, expecting about 3.5 knots favorable, we found a slight adverse current.  This was due to the strong wind pushing the water out of the Cape Cod Bay, entirely disrupting normal current flow!
We motored thru the canal and hooked a starboard turn at the Onset, Massachusetts cutoff.  A call to the Onset Bay Marina revealed a mooring available and we delightedly took it – being cold and wet.  I was at the helm being directed by Nick to the mooring ball pick-up (a process that the crew had down by now).  Imagine my surprise to find that the shift level control cable had snapped just as Nick hooked on to the mooring pendant!  I ran forward and told Nick to tie our mooring line down immediately because we had no power, with the strong wind on our bow.  Nick reacted quickly, and, we were safely moored.
I told Nick that the dreaded "rule of seven" was now well upon us (it started with the potentially ill fated dinghy ride in Plymouth).  Seven unexpected and somewhat serious calamities always accompany the first seaward voyage of a recently purchased vessel.  The best way to handle this is simply to make them all happen quickly (yes, and tongue in cheek, next year we'll be in charge of the universe)!
After receiving a weather report of continued strong South West winds, the crew elected to call tomorrow a lay day!  Spare parts, laundry, showers, and a walk-about were in order.  Nick was all over the shift level cable and Jill and I did laundry.
My treat for this lay day was to come face to face with Nick's amazing Seagull "Silver Century" outboard.  For those of you familiar with this rare beauty, I need say nothing; for the rest of you, welcome to cantankerous – city!  I tried to start this beauty with 17 pulls; Nick said later that he needed just 1 more (18 total), and that I stopped just too short!  He also seemed to know that I <![if !vml]>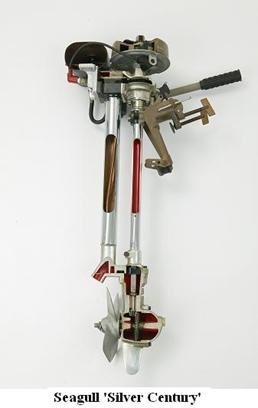 <![endif]>didn't speak kindly to his engine – he said "They know how they are being treated and respond accordingly!"  I gladly turned over all outboard activities to Nick.
After completing shift level repairs, the crew elected to visit the Victorian seaside village of Onset.  Marc Anthony's La Pizzeria was a welcome haven.  We consumed great good quantities of beer and pizza and were given a wonderful tour the pizzeria, the completely restored and classically beautiful Salerno's Seaside Functional Hall and historical photographs of the area by the owner.  Somewhere enroute, I lost my wedding ring - calamity number 3 and no end of searching the Pizzeria, the walk from the marina and Coaster II could recover it!
During our stay in Onset, a 'Hyde moment' occurred with Jill.  The Hyde School, https://www.hyde.edu/  created by Joe Gauld, believes that every student, parent, and teacher is meant to connect with a deep and special purpose in life. Character development is the key to unlocking that purpose.  Parents, their students and facilitating faculty participate regularly to examine the 'issues' in their life and the steps necessary for further emotional, spiritual and character growth.  Two of my three daughters and my extended family participated in this program for 5 years.  To say that it was a positive, emotionally draining and a growth experience is to understate its significance in my life.  Part of the Hyde process is to reveal yourself fully to others, so that night in Onset; Jill did so in a very emotion and heart felt manner: "I just have to tell you both [Nick and Thanos] that I love you with all my heart.  You are what I have been looking for all my life!"  We all savored the moment and hugged afterwards.  Thanos revealed that he could not keep his eyes dry.
We got back to the boat and took stock of the weather.  We had difficulty getting a good prediction for Buzzards Bay, our next challenge.  We also used 'Dial-A-Buoy' (http://www.ndbc.noaa.gov/dial.shtml  and didn't have good reception on our cell phones.  'Dial-A-Buoy' is a very useful National Oceanic and Atmospheric Administration (NOAA) system to obtain current conditions and weather predictions ahead of your course. We were getting tired, but finally managed to determine that the bad weather was well south of our route and that we could expect a reasonable day with 10-15 knots North winds.  We debated making various ports, but ended up with first choice being Block Island, Rhode Island.  This would give us a great run for the day, and, a good position to reach the Connecticut shore on the next weather window.
<![if !vml]>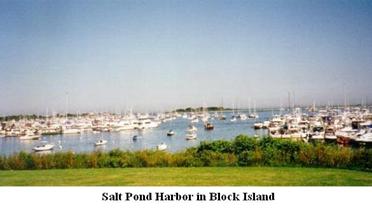 <![endif]>We had a great run to Block Island with canvass up most of the way.  It was sunny, but cold, with large ocean rollers quartering our bow once in open water.  Once close to Block Island, I told the story about a "red nun getting up and walking".  This occurred when Anna and I had first visited Block Island in 2001.  A woman was bent over picking up seashells some 20 feet starboard and forward of the channel market, close to where the normal marker should have been.  She was dressed with a red coat, looked just like a red nun buoy in the distance.  Imagine our surprise when she got up and walked away!  Hard to port!
<![if !vml]>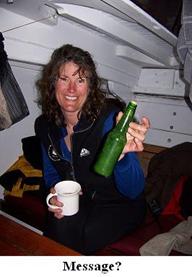 <![endif]>
Winds were predicted to be 35-40 knots from the northwest (remnants of a nasty little late Spring Nor'easter) the next day – we opted for another lay day in port.  In the afternoon of the lay day, Jill and Nick went ashore for necessary provisions in 30 knot winds and returned wet, cold, but thrilled to have visited this interesting island. 
Jill and Nick also returned with a most interesting discovery:  a bottle with an obvious message in it.  It was found sticking out of the sand on the beach east of the Island.  The bottle had sand on the inside and a waxed cork in its mouth.  We had great fun anticipating the message.  Would it be some long lost treasure from a 17th century pirate?  Would it be a forlorn message of lost love as in the movie "Message in a Bottle"?  We speculated with great anticipation, conduced our own opening ceremony with incantations and prayers to the gods of lost bottles while we each secretly wished for our own special result!  We opened the bottle to find a message:
<![if !vml]>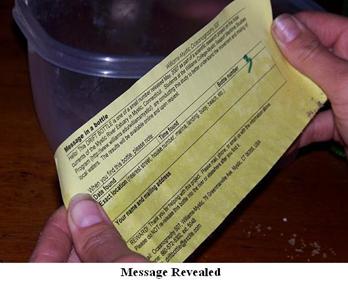 <![endif]>"Hello, this drift bottle is one of a small number released May 2007 as part of a scientific research project on the tidal currents of the Mystic River Estuary in Mystic Connecticut. Students at the Williams College - Mystic Seaport Maritime Studies program (http://www.williams.edu/williamsmystic/ ) are conducting this study to better understand the movement and mixing of local waters….
Ok, so no treasure and not lost love, but interesting nonetheless!
Block Island is a great boating harbor: a typical July 4th will see upwards of 2000 boats in Salt Pond Harbor.  While we were there, only 4 vessels were to be found in the Harbor – just a tad cold, windy and wet.  The Block Island Chamber of Commerce website (http://www.blockislandchamber.com/ )provides a wealth of information about this quaint and wonderful island:
Ten thousand years ago, glaciers pushed their way down the East Coast and left behind the rocks and soil that was to form this little paradise that we call home. The result was a cozy community (only around 800 folks in the winter), a land of stunning vistas and a very fragile ecosystem that we have had the good fortune to preserve for all to share. Because of the particular forces of nature that went to work on Block Island, no other place on earth shares its geography, nor its balance of species. [This is] A rarity, indeed.
While in port on a lay day, there are always things to do; I chose to teach.  The vessel was riding well to our chain anchor, even though the winds outside reached 35-40 knots, and hence we were comfortable in our cozy cabin.  In the past, Thanos had lived during his off duty hours in his forepeak cabin.  He did his duties of helping with food preparation and cleanup, but spent hours reading and playing computer games.  My approach was to lasso him with a velvet line.  Anyone wants to learn more if you make it sufficiently interesting – then all of a sudden, once they have learned, they want more, and then they are off on their own.
<![if !vml]>

<![endif]>
<![if !vml]>

<![endif]>My lasso for Thanos was knots!  I had prepared a special training section on various knots that I've found useful aboard a sailing vessel.  In particular, two such knots came to mind.  Docklines typically work better with a splice on one end (for easier docking by slipping the eye splice on a cleat) and a whipping (to prevent unraveling) on the other end.  I had noticed that our docklines needed attention.  So maybe we could do two things at once: educate and encourage Thanos to get involved and maintain our docklines.
I should mention that credit for these photographs must be given to the <![if !vml]>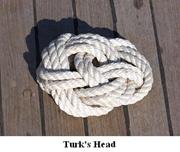 <![endif]>Animated Knots by Grog website.  This site sells a inexpensive CD  that provides an excellent animated training tool and the ideal gift for: Yachtsmen; Climbers; Fishermen; Scouts; Arborists; and Search & Rescue Workers.
<![if !vml]>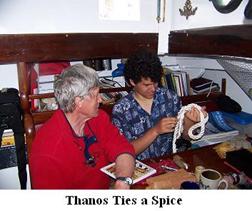 <![endif]>Thanos rose to the bait like a hungry spring trout!  It was magnificent. After spending about an hour learning to tie various knots, the next day, Thanos was to be found working around the boat, maintaining various lines with these knots. The boy had started his journey to manhood; he no longer spent long hours reading and playing computer games in the forepeak.  It wasn't just knots he was interested in, he now insisted in learning to drive the vessel while anchoring (sometimes quite tricky).  It wasn't just Thanos; the crew was coming together, bonding, and learning to work together more effectively.
The weather predicted for day 8 was 10-15 from the North, North West – good to run to the Connecticut shore.  The anchor raising started @ 0615; we had the use of a classic windless aboard that required Thanos and Nick to pump while the wildcat brought the chain in.  We had put a good 6-7 times depth out for our anchor scope, were in 25 feet of water (with height of bowsprit), so we had at least 150 of chain out.  Nick had become very fond of this windless; knowing him as you now do, would you expect anything different?  Oh, there is one additional feature of Nick that you must know.  He loves life in the slow lane.  His father once accused him of being the slowest car driver he had ever known; Nick placed a muffin (by mistake) on the bumper of his truck, and, it stayed on his bumper for over 200 miles!
We also noticed that we no longer had a stowaway!  Clearly, he had escaped during the night while swimming ashore in the cold waters.  Thanos had been feeding him droppings from the table while in the forepeak.  The stowaway complained bitterly about the lack of creature comforts, lack of good food, but chose to remain on board, living primarily on hardtack and water.  Stowaway Bob (Bob Schneider – a friend who had visited Coaster II in Portland and wanted to stay aboard) was a fanciful nautical story that Thanos loved!
Leaving the Block Island Salt Pond channel entrance, we saw a fisherman fishing in the channel.  I waved, and a partial wave back was received.  Then the fisherman said, "You are running over my line!"  This remark was quite interesting, because I was in the channel and clearly had the right to be there.  Was I supposed to run aground in order to avoid his fishing line?  Nick was with me in the cockpit at the time and said: "No, the fisherman said 'Nice Lines'!"  I immediately took his meaning to be the 'glass is half full' and smiled with the gentle reminder to not hold on to frustration.  Nick and I talked about this for a while and he said that he reminds himself not to "avoid giving anger a parking space in his mind."  What a delightful lesson in life – we can easily allow others to make our own existence miserable, or, we can turn it around and make the encounter positive.
The voyage to the Connecticut shore from Block Island (if going west into Long Island Sound) involves running thru the 'Race'; a river of water which runs like a funnel into and out of the sound.  We had picked the tide well and we helped by at least 2 knots into the Sound.  A sailor must be aware of tides and currents, and, this helps them remain in touch with the sea.  Remaining in touch with the sea places the sailor in tune with the Universe; a healthy spiritual place to be.
The rollers were 10-12 feet high, long and rolling and we were buoyed by their presence.  The gale had blown out.  Visibility was 1-2 miles and we were quickly out of sight of land.  We could have been anyway on any ocean – it was peaceful and serene while we sailed on and on. 
<![if !vml]>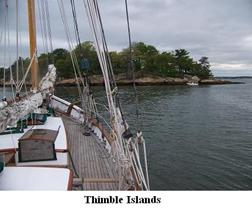 <![endif]>We made over 66 nautical miles in that 8 hour sail.  We were bound for the Thimble Island where Anna and I had anchored before.  After some discussion of where to anchor, we were met by a lovely couple named the Robeson's, who pointed out a mooring field where they said we could tie up for the night. Later, Sandy, Rob and his finance visited Coaster II from their runabout.  Sandy lived on High Island and I accused him of moving at glacial speed when he said that in 100 years, his family had moved from the Western part of the Island to the Eastern part (high island is approximately ½ mile long).  Rob was employed as a shipwright in the Dutch Wharf Boat Yard (no website found). We had a pleasant conversation on a number of topics.  Jill, Nick and Thanos were thrilled to meet people underway.
<![if !vml]>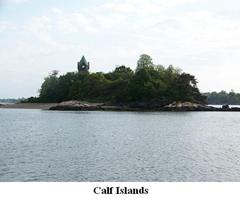 <![endif]>
That night we continued the long conversation about the next steps in our voyage.  Jill had to make an airline connection; Nick children, his mother, her sister and brother, and brother's wife were planning to meet us all in New York, and, we wanted to connect on time.  Having made the Thimble Islands, and, escaped the late Nor'easter Gale, we were well positioned to make New York Harbor on May 21st (Monday).  However, we had to make good progress on the next day.  The weather was kind, and, we sailed and motored on a gloriously sunny day, arriving near Greenwich, Connecticut and anchoring off the Calf Islands – a delightful location that Anna and I had anchored at before. 
We needed to make an early departure the next day to make our passage comfortable thru the dreaded "Hell's Gate" on the East River.  Currents in this stretch can exceed 4 knots and we didn't want to strain our 'iron jenny'.  We enjoyed another fabulous feast prepared by Jill; she seem able to conjure up great and nourishing meals from 'whole cloth' while simultaneously insuring that her men's needs were met (multi-tasking is a great skill and it seem to come easier to women than men).
Agreeing to raise anchor at 0500 and depart at first light, we slept with great anticipation of reconnecting with our family in New York.  Now I made a mistake: while raising the anchor, I backed down on a crab pot and tangled the propeller in the line between buoy and pot on the bottom.  Arghh!! Oh, double Arghh!  We immediately went to work with our McGuyver skills, and taped a sharp saw to a long pole.  After about 15 minutes, Nick switched to the port side and was able to cut the line – we could not free the line without cutting it.  I ran the engine back and forward, and we were ok!  Yeah!  It took about an hour, but we still had a 'Hell's Gate' window if we left immediately.  The last time I had done this was 20 years ago on my previous vessel Kind-a-Nice in icy cold Maine waters – I can still feel the coldness of the water.  There is no end to learning or re-learning skills on the sea.
<![if !vml]>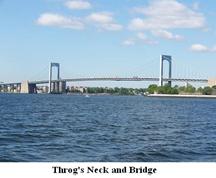 <![endif]>The skyline of New York City was now in view – and from a great distance.  We were about to enter the East River.  Boat traffic increased slightly, but mostly tugs and barges were seen.  We had planned out passage carefully, because there were dangers to be found in these waters.  The night before, I had related the story of a lady who was single handling her 42 foot sailboat thru these same waters.  Going toward New York City from Long Island Sound, she had turned to port (instead of starboard) at Roosevelt Island, and because the bridge was normally down, and, the clearance for her mast was insufficient, managed to jam her vessel underneath the bridge while the waters rushed by underneath her.  She remained there with her vessel heeled 17 degrees, and water lapping at the scuppers until the bridge tender was found and made his way to the bridge from 2 hours away in the usual New York traffic.  When she told this story, she still shook with emotion some 3 years after.  Anna and I had developed the 'yellow line' approach to navigating such waters.  The night before, we would take a yellow marker and literally mark our passage on a paper chart all the way thru.  The East River is a place where you do not want to make a mistake.
<![if !vml]>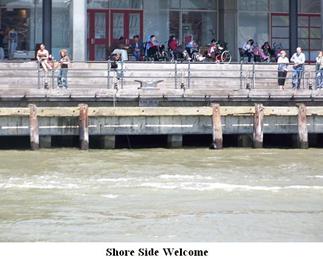 <![endif]>We ended up with an adverse current because of our crab pot episode and also because my current charts read EDT (Eastern Daylight Time) rather than the Easter Standard Time it was.  As we neared our rendezvous point at Pier 1 on the East River, the phone went into continuous ring mode.  Our shore side family was overjoyed to see us pass by. We didn't stop here because of current and Pier 1 policy, but rather continued downriver to the Statue of Liberty Park where we anchored to sort out our next physical rendezvous and family reunion.  It was a tad difficult because the Marina that Uncle Gaylord (close to the Statue of Liberty) had found for us had two different names!  The crew also experienced the difficulty <![if !vml]>
<![endif]>of communicating with shore side people: assumptions on both side cause us to miscommunicate.  Shore side people assume you know certain landmarks; we were somehow supposed to know where the Colgate Sign (on the Hudson River) was, when we were on the East River, and had not ever transited the Hudson River (just one example).  Once we realized the different name, we readily found the marina in our guide book, and went back up the Hudson a short distance to the right location.
The reconnection with the family was classically Greek: joyous, emotional, happy, and loving!  Take a moment and read the email from Yiayia again – she describes it so well.  The timing was perfect, it was two days before Jill's flight; the two additional children were happy to see their father and Jill, and brother. We were all very thankful for having made this voyage safely, determinedly and with élan. (Sisu: a Finish word with that meaning).
<![if !vml]>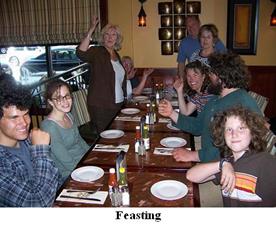 <![endif]>In great Greek tradition, the first thing to do after all the hugs was to eat!  So we did – even though we had not had showers in 4 days.  It was great to be back on dry land, but almost as soon as I left the boat, I wanted to go back.  We had a good walk to the restaurant – felt great, even on my sea legs.  We had great conversation – we all caught up on the many details of our lives.  We told wonderful stories of our experiences and celebrated life – Oopah! Or in Greek: Ελληνικά .  I spent the night with Yiayia, Gaylord, Peg and Joyce at Joyce's uncle's apartment, a short distance from the South Street Seaport – very convenient.  The children spent the night onboard with their father and Jill.  I learned more about the family, and, we shared insights about our lives.  I grew closer and more enthralled by this family.  Oh yes and I had a shower - it's a wonderful thing for a salt encrusted sea dog!
The next morning, Gaylord needed to acquire parts (anchor light, chart kits for the following legs, etc.) at West Marine; Peg and Yiayia had provisioning, and, I needed to get back to Coaster II (I had one more day to provide Gaylord with some essential education). 
Gaylord excels in his ability to do research – obtain information, parts, connections, and networking.  He succeeded in his tasks in all areas except the anchor light.  West Marine did not have one (let me say that again – West Marine, one of the largest marine parts stores in the USA, could not come up with an temporary anchor light in their New York City store)!  Ok, so in the finest traditions applying McGuyver techniques, we made one.  We took a spare vitamin bottle that was translucent, removed the paper identification, used a couple of tie downs to connect flashlight to bottle, and flashlight to halyard, and whalla, we had an anchor light.
Yiayia is good at many tasks; one of which is provisioning.  She also is a great cook; from home she brought oatmeal cookies, and, a wonderful Greek treat called Kuluthea (a biscotti like hard pastry that goes great with coffee).  Watching her delight in bringing provisions to the crew is like having Christmas all over again!
At around 3 pm, the new Coaster II crew (Nick, Thanos, Gaylord, Joyce and I) were ready for departure up the Hudson.  Goodbyes were tearful and full of emotion, but we had to continue the voyage.
The Hudson River is a wonderful contrast to being at sea on the Atlantic.  It is peaceful (once the mad, dashing ferry boats are left behind), wide and initially deep.  We found ourselves sailing while still next to Manhattan: a 17th century means of transport contrasted with the chaos of New York City.  What a preferred way of life: life in the slow lane while the fast lane folks dash by! An excellent website that describes the history, attractions, and all other aspects of river life is the Hudson River.com (http://www.hudsonriver.com/ ).  An excerpt from this website, written by Rebecca Haynes, provides a peek at the history:
Imagine stumbling onto the beauty of the Hudson Valley by accident.
Englishman Henry Hudson was looking for a quick passage to China as he sailed along America's north Atlantic coast in 1609. Hudson thought he found what he was looking for when he entered New York Bay and what is now the river named for him. He and his crew of 18-20 men, sailing on a ship called the Half Moon, traveled about 150 miles up the river near what is now Albany before realizing it would not lead them to their destination of choice.
Hudson had been hired for the journey by a Dutch trading company, the Dutch East India Co., and his explorations led to the area first being settled by the Dutch.
In a few moments under sail, we saw another schooner, and, a large, traditional sloop.  Thanos took the helm and we went for a look see.  It was the Clearwater, the sloop that is owned by Pete Seeger (http://www.peteseeger.net/ ) and was used as for fundraising for the cleanup of the Hudson River in 1969.  As Dimitrios has described above, Pete Seeger is a family friend.  In addition to being America's best-loved folksinger and an untiring environmentalist, Pete Seeger is a national treasure. He has been at the forefront of the labor movement, the struggle for Civil Rights, the peace and anti-war movements, and the fight for a clean world. We hailed the vessel; Nick answered the familiar "Where Bound?"
<![if !vml]>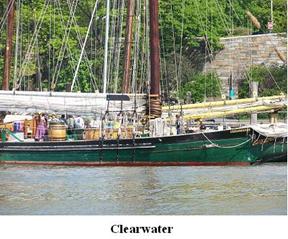 <![endif]>
What happened next was delightful – Gaylord followed up on a prior call from Pete Seeger to Yiayia which we had been unable to take while departing.  Pete (from his home in Beacon, NY) sang us a song (on Gaylord's cell phone) of Carl Sandburg taking a voyage on the schooner Bigalow: what a treat!  Pete Seeger is currently 88 years young, having been born in May 1919.
Joyce was now at the helm with canvass up (main and foresail); after a few tips, she was steering Coaster II with ease (well, almost).  She almost didn't make the voyage, having spent her life on dry land, but her brother said she would be foolish not to come, so she did!  Gaylord quickly learned the controls for the GPS and had our course entered to avoid the barge traffic.  Being an engineer, he understood the movements, forces, and balance of Coaster II.  He just needed some time to connect the dots for the various lines, sheets, terminology, etc.
<![if !vml]>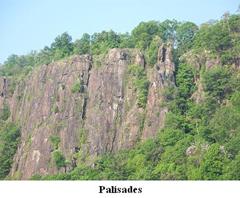 <![endif]>
We anchored that night in the Palisades; a delightful series of high bluffs on the western side of the river.  Thanos steered while Nick anchored. Once anchored, Coaster II did her anchor dance: an interesting attempt to sail while at anchor in wind and current.  We had a wonderful meal which Joyce and Thanos prepared.
Sadly, this was my last day aboard Coaster II.  What an amazing voyage – and it was just beginning.  We contacted the marina a Tarrytown, but we would have been unable to drop me off due to water depth (I was catching a train to NYC and on to Maine).  We contacted Half Moon Bay Marina in Haverstraw Bay and they indicated they had sufficient water depth at the dock.
After brief, but poignant goodbyes, the Crew executed a brilliant 'warping off the dock' to get Coaster II back on her voyage after I departed.  To several shouts of Oopah, I departed this dream voyage!
As I stood on the dock, sadly watching Coaster II sail off, my thoughts were "Fair winds and following seas to my delightful friends and family.  We will meet again!"
About The Author:
--------------------------------------------------
Captain James R. "Jim" Vander Schaaf
is a successful yacht delivery captain and
offshore cruising educator who is interested
in helping people enjoy their experiences at sea!
<![if !supportLineBreakNewLine]>
<![endif]>
Find out more at:
Down East Yacht Delivery.com
http://www.downeastyachtdelivery.com/
--------------------------------------------------

NOTE: You have full permission to reprint this
article within your website or newsletter as long
as you leave the article fully intact and include the
"About the Author" resource box. Thanks! :-)